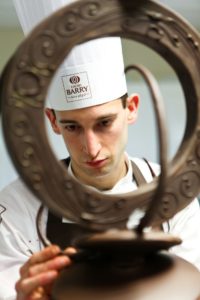 Maxime Michelot has joined IDE in Hong Kong as Pastry Master Chef Instructor.
Prior to joining IDE, Maxime was the Pastry Sous-Chef at the Sheraton Grand Park Lane 5* hotel, on Picadilly in London – an iconic establishment dating back to the 1920's, known for hosting the Queen of England and movie stars. During Maxime's tenure, the Grand Park Lane was shortlisted as one of the UK finalists in the Afternoon Tea of the Year competition.
In 2017, Maxime was candidate for the selection to join the UK Team (Chocolate category) for the Pastry World Cup. He was also the winner of the Junior Chocolate Master UK competition, and a winner of the Classic Fine Foods UK competition (Christmas log category).  Furthermore, he reached the quarterfinals with his team on the  "Crème de la crème" TV show on BBC2, dedicated to "the search for Britain's best team of pastry chefs".
Maxime previously worked as Chef de Partie at the Shangri-La 5* hotel in the Shard, ranked as one of the best hotels in London, and as one of the "Most Exciting Hotel Openings Around The World' by Conde Nast. Prior to that experience, Maxime was part of the pastry team at Harrods in London, where he trained under the famed Markus Bohr.
Maxime holds the French CAP certification in both Pastry and Bakery. He initially trained at several pastry and bakery boutiques in France, and then became a Chef de Partie at "La Maison des Saveur " in Nantes. He has had several mentors over the years, including Martin Chiffer, president of the UK team  for the Pastry World Cup.
In his own words, he "fell in love with pastry when, as a young child, he visited a bakery in France. He was hypnotized looking at the big machines, smelling the divine perfumes of the bread and enjoying the beautiful colors in the shop. The sweet bread and pastry were a revelation for him".