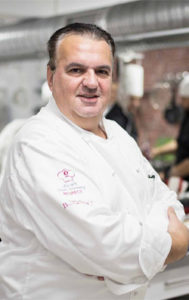 Ciprian Nicolescu is a Master Chef Instructor at IDE Romania. He began his career in gastronomy 28 years ago in restaurants in the center of Munich (Germany) where he had the opportunity to work under the magic wand of famous chefs at the time: Alfons Schuhbeck, Heinz W. or H. Wohlfahrt, who they have left their mark on his culinary education. He was instructed to attend the Institute of Culinary Art (ICA) – Food Service Management, which he graduated in 1995. Since then, the road to the true foray into the world of obsession with the perfection of Michelin stars was just beginning. A magnificent world that combines the sweat of endless hours of work with respect for the impeccable and refined dishes that reach the table of the connoisseur client.
Curiosity and thirst for knowledge pushed him to leave old Europe and so in 1998 he arrived in the United States. Carnival Cruise Line was his first challenge where he learned what it means to work with a large volume of clients, a different discipline in the chefs' guild, even regimental. Here he met the mentor who taught him the secrets of classic French cuisine from bark to bark. It was a revelation and thus became the right hand of Chef Tierry C. whom he followed in his projects with hotel brands such as Marriot or Sheraton in Miami and New York until 2004. This year represented for him the point of maturation in the gastronomic field.
The 12 years spent with leading chefs in international gastronomy, created the verticality he needed to take over for the first time the hatches of a hotel opening in Hyde Park London. Here he also graduated from NVQ Level 3 in Professional Cookery under the umbrella of "The City and Guilds of London Institute" at West Hearts College – Cassio Campus, after which he took the courses for Level 3 Awards in Supervising Food Safety in Catering at the "Chartered Institute of Environmental Health London ". For almost 13 years in London (Buckinghamshire) he took over concept change projects and Grand openings as Head Chef and Executive Chef with various hotel companies such as Corus Hotels, IHG Intercontinental, Sarova Hotels, Devere Venues, SHL Hotels etc.
At one point he was looking for serious projects in Romania and so, after 25 years, Chef Ciprian Nicolescu repatriated for a large project, namely he had the pleasure to be part of the task force of the management team of the Grand Opening Hotel Ramada Plaza Craiova in 2015.
Other beautiful projects brought him to the Capital where he worked as Corporate Chef of the restaurant chain Trattoria Buongiorno where, in addition to improving the brand, he left his mark on its expansion with two new locations on the culinary scene of Bucharest: Trattoria Buongiorno Centrul Vechi and Arena.
At present – Senior Managing Director at "Napage Consulting" – Concept developing strategy & branding for culinary businesses.