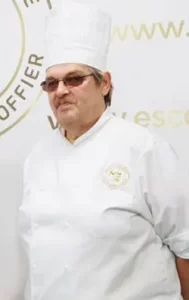 The French-Belgian Chef Daniel Van Der Veken is a Master Chef Instructor at IDE Romania. With 40 years of experience in fine dining restaurants in France and Belgium, he has settled in Romania for several years to pass on his international culinary experience to Romanian chefs.
Thanks to his professional training in the big restaurants in France and Belgium, Chef Daniel Van Der Veken will reveal the hidden secrets of the international recipes he prepares applying the basic techniques of the father of French cuisine, the illustrious Auguste Escoffier, combined with the latest trends in gastronomy.
As an owner, chef and restaurant manager in Belgium, Chef Daniel has managed to develop the optimal communication and management qualities of the restaurant, the staff, the equipment.
Designing a menu is always a challenge, especially when you want to achieve perfection. The decor, the ambiance, the presentation of the dishes, the taste and aroma, the service, are the elements that define a successful restaurant. Chef Daniel managed to bring together all these elements and to delight his clients every time with special dishes and a plating designed in his own style, but taking into account the trend of that period.
A member of the Disciples Escoffier International Association, which has more than 30,000 members worldwide, Chef Daniel Van Der Veken respects the Escoffier values ​​he has applied throughout his career.
Chef Daniel Van Der Veken has joined the team of Institut Disciples Escoffier to pass on his international experience in the field to all those passionate about culinary art, international gastronomy, and future professional Chefs.
"It is never too lazy to start a career in the culinary field, if you really want to gain experience, evolve and work hard to perfect your methods and techniques for preparing dishes. Accept the challenge and we will open the way to new international culinary experiences! " says Chef Daniel Van Der Veken.