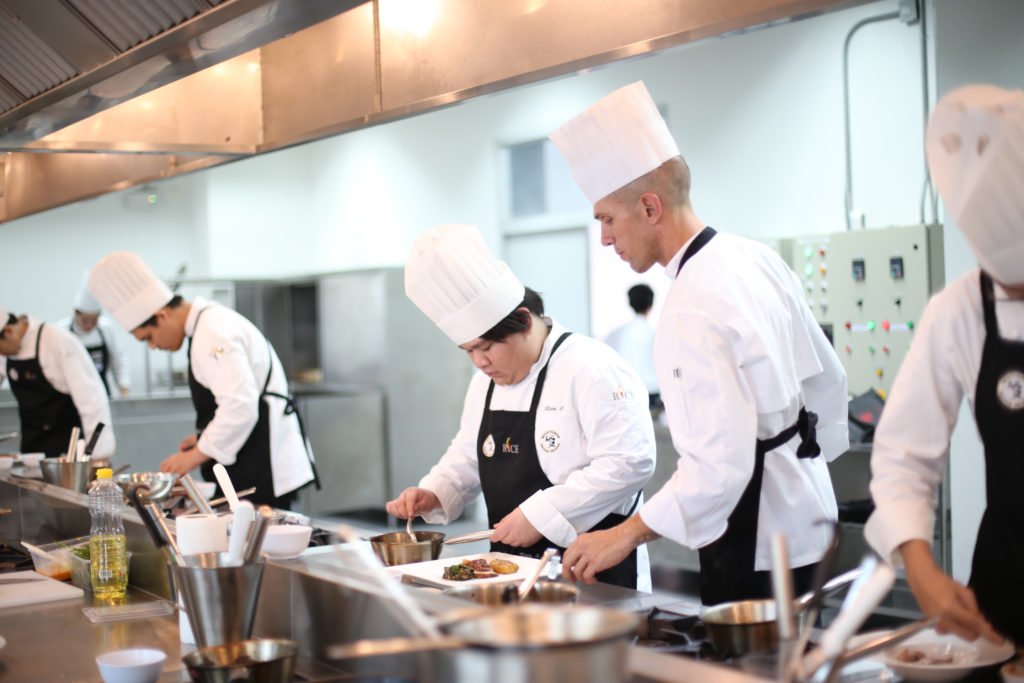 Are you thinking of kickstarting your culinary career as an international chef? Cheffing is not easy: whether you're striving for a Michellin Star, building your own culinary business, or simply just pursuing your passion for food, our culinary school will allow you to carve out a career, allowing you to travel anywhere in the world. To understand the vast range of culinary arts, knowledge, international recipes, and cooking techniques, you should definitely consider in enrolling in a top culinary school. But in order to start your education on the right foot, what should you do to prepare beforehand?
#1 What You Will Learn in Culinary School 
Institut Disciples Escoffier, with locations in Bangkok, Bucharest, and Hong Kong, is the perfect place to begin your culinary journey; Institut Disciples Escoffier (IDE) – supported by Disciples Escoffier International, the world's most prominent chef association – is a professional culinary school recognized by the French Ministry of Education. When you attend our culinary school in the first instance, you will be taught how to develop and refine a skillset in a professional kitchen environment. We will equip you with over 200 recipes and 150 techniques to enable your career progression from junior chef to rising culinary professional. Join our intensive program for a double certification in culinary art. Here, you will be mentored by our world-class chef instructors, who have extensive experience in the fine dining industry in France and abroad, and who oversee the delivery of our core programs.
#2 Culinary 101
Every chef worth their salt (pun intended) needs to know their kitchen vocabulary, equipment and rules that are applied in and around the kitchen. From the names of utensils to the various cooking techniques, from kitchen safety to the correct kitchen attire, and everything in between, Culinary 101 has a clear purpose: we aim to get everyone on the same page in order to be more effective, more time efficient and, most importantly, to make sure everyone is safe.
#3 Career Opportunities
Whilst the world will become your oyster after you graduate, you should try to have some kind of idea of the direction you want to go in once you leave us as a qualified chef. However, our advice is to keep an open mind and not put all your eggs in one basket; you'll find that many career opportunities within the food service industry will begin to open up. Through culinary art and training, you will discover new areas that you might thrive in, or you might network with somebody who inspires you to go in a different direction than you initially planned for. 
The opportunities are vast: it could be catering, an entrepreneurial venture, hotel or cruise service, working with airlines, food testing, personal cheffing, being a nutritionist, baking, and kitchen architecture to name a few! 
#4 Pursue Your Chef Certification
No matter how talented a culinary student you are, it will be your official Culinary Certification that sets you aside from other aspiring chefs. With the speciality or advanced credential that we will accredit you with, you will be able to qualify for higher-level job opportunities and delve into leadership roles – like overseeing a kitchen or leading the culinary department in five-star hotels or fine dining restaurants. 
Time To Join Us
Whether you have just begun exploring your options or have already made up your mind to attend culinary school, we believe that reading this article is not a coincidence. If you have dreams of wearing a chef's toque and apron or running your own bakery or restaurant, our culinary art program is an excellent choice. Learning the business side of food, having the opportunity to gain creative insight, and building a wide network of connected alumni and chef instructors will undeniably help you as you embark on what we think is one of the most rewarding careers. 
Our admission team would be thrilled to provide you with further information. Send us an email at ​​[email protected] or apply here.