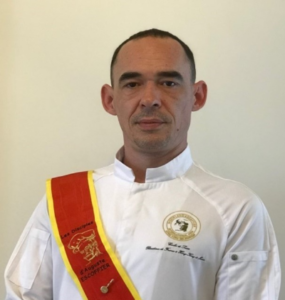 Carlos de Sousa is a Master Chef Instructor at IDE in Hong Kong, and president of Disciples Escoffier International Hong Kong Delegation. Exceptionally innovative French chef, Carlos has more than 25 years' experience in upscale gastronomic kitchens throughout Europe and Hong Kong.
Graduated from the illustrious Auguste Escoffier School in Eragny, France, Carlos has had the pleasure and great fortune of working in various Michelin starred restaurants and hotels as well as with the likes of world-renowned chefs such as Alain Ducasse, Christian Julliard and Jean-François Piège.
For the last ten years while serving as the private chef for Ministries of France and as the private chef for the French Consul in Hong Kong and Macao, he has been honored to serve France's two previous presidents, François Hollande and Nicolas Sarkozy, as well as many ambassadors, important dignitaries and successful business executives from around the world.
His most recent passion involves sampling the diversity of Asian flavors and incorporating these flavors with the French cuisine.
Carlos is the president of Disciples Escoffier International Hong Kong Delegation. He enjoys sharing his work with his fellow colleagues and passing his knowledge on to others who are interested in the culinary arts as a profession as well as to all foodies alike.